Andrew Fidelman

Andrew Fidelman was hit by the wine bug when he was 19 years old. While attending Michigan State University earning a bachelor's degree in Cultural Anthropology, he worked as a waiter at the finest restaurant in East Lansing. The wine program was extensive, and Andrew had the opportunity to participate in his first "blind" tasting.
From then on, I wanted to read about producers, study the major regions and taste the vast array of wine available in the world. Although wine became a priority in my life, I still wanted to attend graduate school. While studying for a master's degree in Bilingual/Bicultural Education (Spanish/English), I worked at Tribute, a grand award wine program with a James Beard honored chef in Detroit. I worked as a teacher in Detroit, Oakland and San Francisco while studying wine in my spare time. I made the full change to wine/restaurant work when I landed a job at La Folie. From there, I went on to Aqua, Michael Mina, and The Village Pub and eventually opened and co-wrote the wine list at Spruce. I was reunited with Laurent and Chris in 2009 when we opened Blanc et Rouge. Over the years, we discussed opening a wine bistro with a full retail section that reflected the cuisine and wines of Southwest France.
Laurent Manrique
Chef Laurent Manrique, a founding partner of C & L Partners,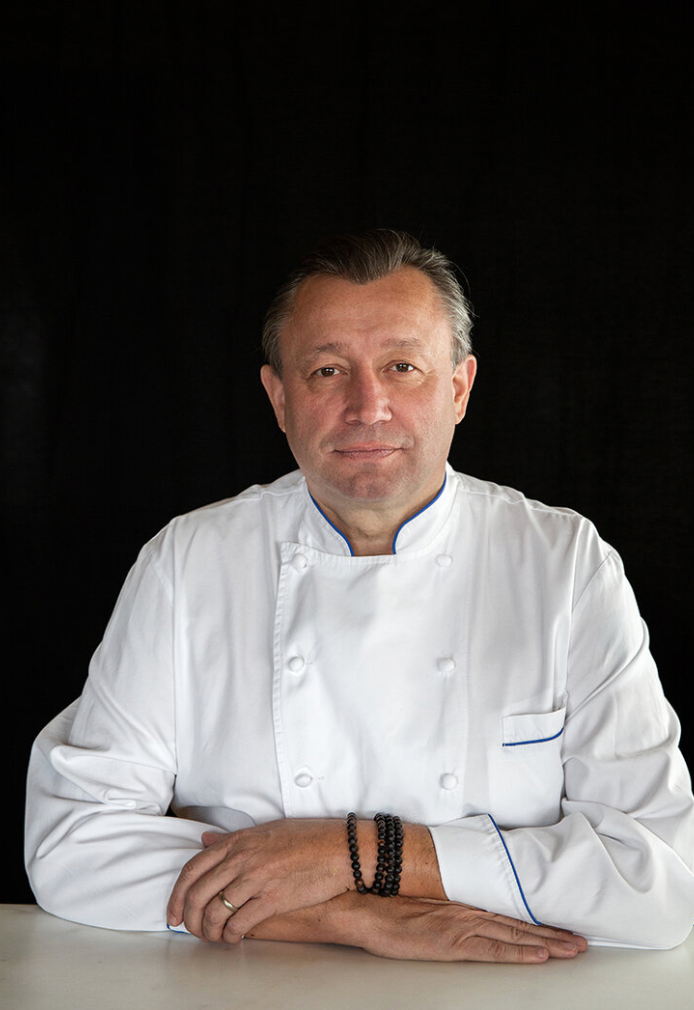 brings his world-renowned, award-winning cuisine and restaurant management expertise to the company. Having made significant impacts on both the New York and San Francisco dining scenes, Laurent is most recently lauded for his native contemporary Gascon cooking and outstanding service that earned Aqua, San Francisco's upscale seafood restaurant, numerous accolades during his tenure as its Corporate Executive Chef. Following Aqua's 3½-star rating from the San Francisco Chronicle, Laurent garnered Aqua's two Michelin Stars in 2006, the first time Michelin came to the San Francisco Bay area, as well as the distinction of being the only French chef in the region to have done so. In 2007 and 2008 Aqua was again awarded two Michelin stars, during which timeframe Laurent also earned the Kimpton Group's Fifth Floor restaurant its one Michelin star.
Classically trained in Paris at Michelin-starred Taillevent and Toit de Passy, Laurent arrived in the U.S. in 1991, when he spent a year in Los Angeles at restaurants Fennel and Rex. In 1992, he moved to New York City, where he served as Executive Chef of the Waldorf Astoria's Peacock Alley. In 1997, he left the Waldorf and became a partner of Gertrude's, and in 1998 he earned Bon Appetit's Rising Star Chef Award. The following year, Laurent returned to the West Coast as Executive Chef of Campton Place, where he earned significant attention and critical praise before taking over at Aqua in 2003.
Laurent's passion for cuisine includes an emphasis on philanthropy, where he employs his cooking abilities for a variety of causes. Though he regularly contributes to many local charities and fundraising events, of particular note is his own creation, "Taste and Tribute," a bi-annual benefit convening 18 renowned chefs for the Berkeley-based Tibetan Aid Project. Laurent has cooked for Nelson Mandela in a South African yearly event to help HIV-stricken families and is a long time supporter of Meals on Wheels and Project Open Hand in San Francisco.
Laurent also owns Cafe de la Presse, a popular Parisian-inspired bistro in downtown San Francisco, as well as wine bars Blanc et Rouge and Rouge et Blanc. Winemaking, another great passion, has extended to his partnership in a winery in Spain, while participation in a Napa Valley venture has brought forth the award-winning Acvs chardonnay. His frequent consulting projects, as well as being a member of FohBoh.com's Board of Directors further Laurent's innovative and important contributions to the restaurant industry.
Chris Condy

Christopher Condy is a founding partner of C&L Partners, a restaurant development, operating and investment company. In 2008 C&L developed and opened the Fifth Floor Restaurant at the Palomar Hotel in San Francisco for the Kimpton Group garnering one Michelin Star in its first year. Later in the year C&L developed and opened the Urban Tavern at the Hilton San Francisco. Chris brings over 25 years of experience in consumer investment banking, luxury spas, resorts, hotels, wine, corporate and charter aviation, restaurant development and operations to this new venture.
Chris was a board member of Aqua Development Corp. ("ADC"), which owns and operates the world-renowned and two Michelin Star AQUA restaurants in San Francisco, Las Vegas and Laguna Niguel. From 2006 to 2009 Chris was Chairman and CEO of ADC. Additionally, Chris is a member of the Board of Directors of Spa Chakra, Inc. the leading developer of international luxury spas in hotels and resorts. Chris is an investor; a member of the Board of Directors of FohBoh.com, the restaurant industry's leading online social network; and, most recently, the Chairman of the Board of Directors and an active pilot for Solairus Aviation, the largest aircraft management and charter operator in the western United States.
Prior to starting C&L Partners, Chris was a founding partner, a former member of the Board of Directors and Managing Director of JMP Securities (NYSE: JMP) from 1999 to 2007. At JMP, Chris headed Consumer Investment Banking and the firm's efforts in Asia as Chairman of JMP Asia. Prior to joining JMP, Chris was President and COO of the energy efficiency and management company, Proven Alternatives.
Previously, Chris worked at Montgomery Securities as a Vice President and Director of Venture Capital Services and prior to that, in institutional sales covering the United Kingdom, Europe and Asia. Before moving to Montgomery Securities, Chris started his finance career at Ivory & Sime, PLC in Edinburgh, Scotland on the U.S. fund management team.